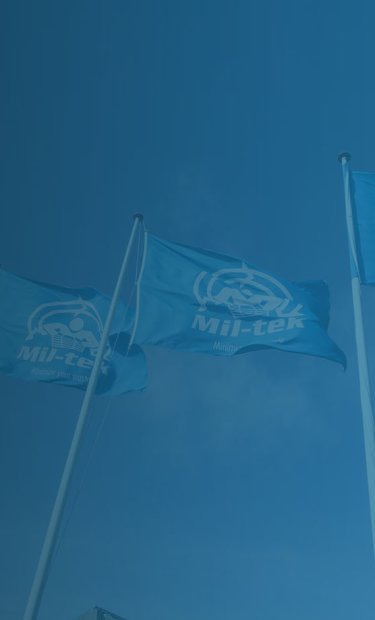 Privacy Policy for Mil-tek UK
Information about how we handle your personal data and cookies.
Mil-tek UK Privacy Policy
Mil-tek processes personal data as part of our business and website activities. In accordance with the EU's General Data Protection Regulation (GDPR), Mil-tek is committed to protecting and respecting your privacy. This privacy statement explains the circumstances under which we may collect your personal data, share it with others, how we may use it, and how we safeguard it.
1. Data controller
In accordance with the provisions of the General Data Protection Regulation ("GDPR"), the data controller is:
Mil-tek Danmark A/S
Torstedvej 4-8, 6990 Ulfborg
CVR-nr.: 26889855
Phone: 96 75 82 06
Email: info@miltek.dk
Website: www.miltek.dk
If you have any questions about this Privacy Statement or about our processing of your personal data, you are always welcome to contact us via the above.
2. Data collection
We collect and process your personal data:
When you use our website and website contact forms.
When you communicate with us verbally or in writing, over email, over the phone, via social media etc.
From third-party data aggregators, such as our marketing partners or social media third parties. We only collect your data in this connection if you have authorized us to do so.
3. Types of data collected
We may ask you to provide, or you may choose to provide, the following data:
Email address.
First and last name.
Phone number.
Company name.
Geographical location.
Credit card information.
Data that you provide during the application process, if you apply for a job with us
As you browse our website, we use cookies to gather website navigational data about you, such as:
Your IP address and common information about your browser and device.
Digital behavior (the pages you visit on our websites, the links you click in our emails etc.).
If you want to customize or withdraw your acceptance of cookies, on our websites or in general, you can find more information on how to administer your cookies here.
We do not collect data that may be considered "special", such as social security numbers or other sensitive personal data.
4. Data use
We use your personal data for the following purposes:
To respond to your communications or inquiries, to provide information or documents that you request, to interact with you on social media, and to subscribe you to mailing lists etc.
For business campaigns and corporate transactions, data analysis, to conduct research and analytics about your use and interaction with us, develop new products, improve existing products or services, assess the performance of our advertisements and marketing, optimize our advertising and marketing campaigns, and determine the effectiveness of our communications.
To improve the functionality of our websites, as well as to provide us with business and marketing information. Cookies enable us to customize our websites to better meet your needs.
To process orders, invoicing, agreements, and payments.
To perform direct sales activities in cases where legitimate and mutual interest is established.
To handle recruitment processes and process job applications.
We will not use your personal data to advertise or market third-party goods or services to you.
Paragraph:
The personal data collected is made available to the Mil-tek delegations in UK to carry out some of the activities mentioned above. These legal entities are determined under the following:
Mil-tek UK Recycling & Waste Solutions
Catheralls Industrial Estate
Brookhill Way
Buckley, Flintshire
CH7 3PS
info@miltek.co.uk
Mil-tek Scotland Ltd
31 Colvilles Place
Kelvin Industrial Estate
East Kilbride
G75 0PZ
office@miltekscotland.com
5. How long do we keep your personal data
We keep personal data for as long as we find it necessary to fulfill the purpose for which the personal data was collected. This means that we may keep your personal data for a reasonable period after your last interaction with us. We will delete it securely when the personal data is no longer required.
6. Disclosures of data
In connection with one or more of the purposes listed under the "Data Use" section, we may disclose your information to data processors, who will process your personal data on our behalf. For instance:
6.1 Piwic PRO
We use Piwik PRO Analytics Suite as our website analytics software and consent management tool. We collect data about website visitors based on cookies. We calculate metrics like bounce rate, page views, sessions, and the like to understand how our websites are used. We may also create visitors' profiles based on browsing history to analyze visitor behavior, show personalized content and run online campaigns.
6.2 Active Campaign
We use ActiveCampaign for email delivery services and email marketing. Active Campaign allows us to subscribe our customers and reach them with marketing communications, to understand how our customers interact with those communications and other content, and to customize marketing based on our customers' interests and digital behavior.
6.3 Facebook
We use Facebook as a marketing tool for brand exposure and for advertising purposes.
6.4 LinkedIn
We use LinkedIn as a marketing tool for brand exposure and for advertising purposes.
6.5 Google
We use Google for Adwords Campaigns and other marketing purposes.
These disclosures may result in the transfer of your data to countries or regions with data protection laws that differ from those in your country of residence. By providing us with your data, as described in this Privacy Policy, you are acknowledging that it may be transferred to countries outside of your country of residence.
We have made sure they commit themselves to adhere to applicable data protection legislation via their own privacy statements, which you can find below.
Also, the third-party data processers that we use only process your information on our behalf and may not use it for their own purposes.

6.6 Privacy Statements of our data processors
Active Campaign Privacy Statement
7. Data security
We have taken the following technical and organizational measures against your information being accidentally or illegally deleted, published, lost, degraded, or coming to the knowledge of unauthorized persons, misused, or otherwise processed in violation of the law.
Encrypted web traffic: Mil-tek's websites use TLS – Transport Layer Security.
Encrypted storage: All personal data that we store and process is encrypted.
Least-Privilege: Procedure for granting access rights to certain personal data.
In addition, we keep our employees updated on GDPR on an ongoing basis.
8. Your rights and choices
You have choices about how your personal data is handled, and we are committed to providing you with reasonable access to your personal data and the ability to review and limit the use of such information in accordance with applicable law.
You have the rights to:
request confirmation that we are processing your personal data.
request a copy of the personal data we hold about you.
request that we update the personal data we hold about you or correct such information that is inaccurate or incomplete.
restrict the way in which we use your personal data (e.g., if we have no legal right to keep using it) or limit our use of your personal data (e.g., if your personal data is inaccurate or unlawfully held).
object to our processing of your personal data.
withdraw the consent that you have given us to process your personal data (where we process your personal data based on your consent – for instance your subscription to our marketing emails).
request that we delete the personal data we hold about you.
If you are interested in exercising one or more of the rights described above, you may contact us at info@miltek.dk.
8.1 The right to lodge a complaint
If you are unsatisfied with the way in which we have handled your personal data or any privacy query or request that you have raised to us, you have a right to lodge a complaint with the data protection or privacy authority in your country of residence.
To find the contact details of the DPA (National Data Protection Authority) in your country of residence, please visit the following sites for more information:
https://ec.europa.eu/newsroom/article29/items/612080/en
https://dataprivacymanager.net/list-of-eu-data-protection-supervisory-authorities-gdpr/
Cookies
What are cookies?
This website uses "cookies", which are small text files that are stored on your computer, mobile or tablet with the purpose of recognizing your device.
In this way, cookies are used to remember your previous settings, choices, and behavior, so that you generally get a more efficient user experience when you use our website.
Cookies do not contain any harmful code such as virus.
Types of cookies
Necessary cookies
Necessary cookies help make the website usable by enabling basic functions such as page navigation and access to secure areas of the website. These cookies are essential for your ability to move around the website and use the functions as intended. Necessary cookies are only used by us and are automatically deleted after your browser is closed.
Preference cookies
Preference cookies enable a website to remember information that changes the way the website looks or behaves – for example, if you have chosen a preferred language or have clicked on which part of the country you are in. This will ensure an optimal user experience. No personal, identifiable information is collected with preference cookies, they are used exclusively to improve the website.
Statistics and optimization cookies
Statistics and optimization cookies help us understand how you as a visitor interact with our website, like which pages you visited, and which links you clicked on. None of this information can be used to identify you, information is collected and reported anonymously. The purpose is to be able to optimize your user experience.
Marketing cookies
These cookies are used to follow users across websites that are visited, for example by tracking search and reading habits. The intention is to be able to target and individualize marketing content, such as banner advertising. They are also used to limit the number of times you are exposed to an ad, so that you only get content that is relevant to you. Anonymous data may be shared with third parties.
How to reject or delete your cookies
It is possible to delete, block and manage cookies. However, please be aware that if you do so, the user experience and design of our website will probably deteriorate. As cookies are largely used to ensure user functionality, you may also find that there is content that you cannot access.
Delete or manage cookies in Safari
Delete or manage cookies in Chrome
Delete or manage cookies in Firefox